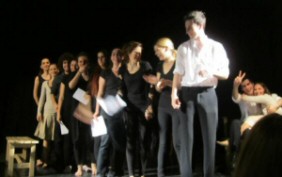 Bald theatre, the theatre workshop of the School of English of the Aristotle University of Thessaloniki, was founded in 1984 by the drama teachers and students of the School. It has been producing and putting up various shows and performances ever since, which have been presented in Thessaloniki and other cities in Greece and abroad in festivals and other cultural meetings. A number of professional actors, directors, set designers and playwrights have cooperated with the theatre workshop turning it into a hub for aspiring young people, a lot of whom are today professionally involved in various fields of theatre practice. The group is open to membership from all Schools and Faculties of the University.
Bald Theatre first appeared in March 1985 with five one-act plays from the American experimental theatre of the '60s and has worked on all theatre genres from comedy and farce to tragedy and melodrama, to musical and dance theatre. More than 50 productions have been presented by the group all these years.
It is indicative, that it has represented Aristotle University in two University Cultural Meetings in Athens, in 1990 and 1992. It was the only Greek theatre group to participate in the Anteprima Torino, Italy, in May 1992 and in the Biennale of Young Artists of the Mediterranean Countries in November 1992, in Valencia, Spain, representing the Municipality of Thessaloniki. It also represented Aristotle University in the European Student Theatre Festival in Amsterdam, Netherlands, in April 1998. Bald Theatre took part in the 1rst Festival of Student Groups that was held in 1997 within the framework of Thessaloniki Cultural City. Bald Theatre also participated in all Student Cultural Weeks, organized annually by Aristotle University (1998-2010), in the Student Theatre Festivals held by the Municipal Theatres of Patras and Serres and the International Meeting of Student Theatre of Olympia in 2003.
In 2011-12, celebrating Charles Dickens's bicentenary, the Bald Theatre experimented with his novel A Tale of Two Cities, conducted theatre workshops for high school students, and presented an adaptation of the book in the Municipal Theatre of Kalamaria at Hilis and the Theatre Festival for University Groups in Serres. Material related with the workshop, rehearsals, and performances, as well as samples of creative writing by the students, have been posted on our blog: 'Experimenting with Dickens's A Tale of Two Cities' (https://balddickens2012.blogspot.gr/), which in June 2012 was awarded the Seal of Good Practice by The University Research Institute of Applied Communication of the Faculty of Communication and Media Studies, University of Athens.
Follow us on
Facebook: https://www.facebook.com/groups/111876335582355
Twitter: https://twitter.com/bald_theatre/followers