Translation - Interpreting - Communication Laboratory
Translation - Interpreting - Communication Laboratory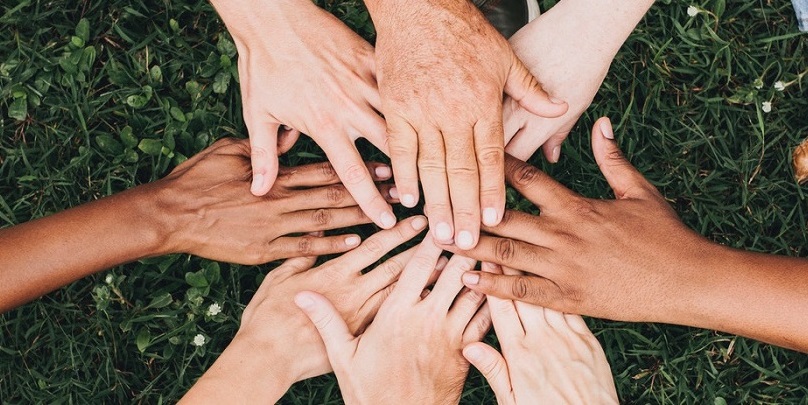 TICL Events
TICL Events
February 25, 2020
TICL joint event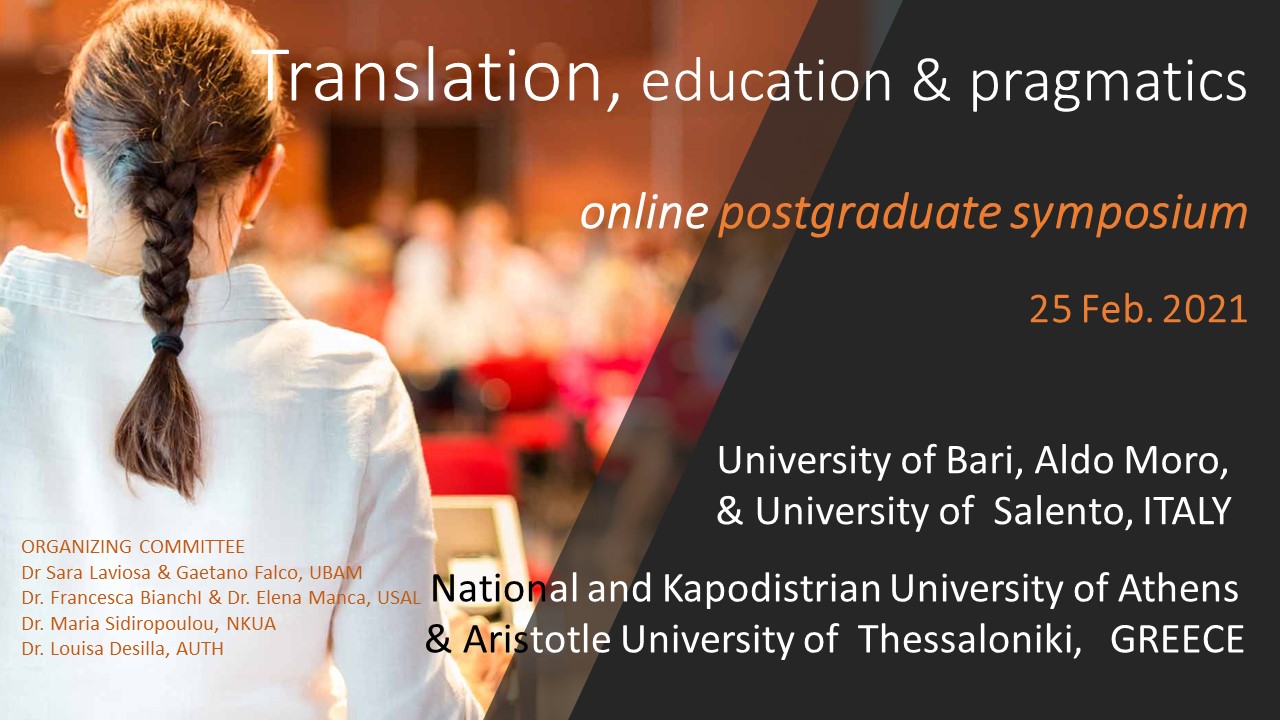 The Translation, Interpreting and Communication Lab (TICL) of the School of English Language and Literature at AUTH, the Meta-Fraseis Laboratory of The Department of English Language and Literature at the National and Kapodistrian University of Athens, the University of Bari Aldo Moro and the University of Salento in Italy have jointly organised an online Postgraduate Symposium on Translation, Education and Pragmatics (TEP) which is taking place on February 25th 2021.
Please see the attached timetable and register here to receive a Webex link to the Symposium.
For any queries, please contact Dr Louisa Desilla at ldesilla@enl.auth.gr.
We look forward to seeing you there!
The Organising Committee of the TEP Symposium
October 27, 2020
TICL & TIFF joint event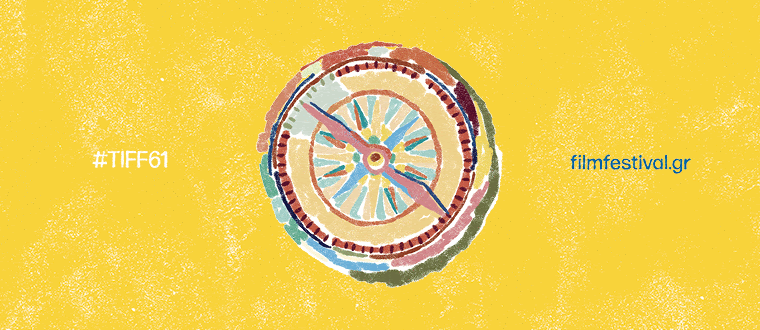 "The Thessaloniki International Film Festival in 2020"
Guest speaker: Panos Achtsioglou
The Translation, Interpreting and Communication Lab of the School of English has the pleasure of inviting you to a presentation about the 61st Thessaloniki International Film Festival (November 5-15). Our guest speaker, Mr. Panos Achtsioglou, will present to students and staff of the School of English everything they need to know about this year's event: faced with the challenge of addressing the new conditions for film exhibition in relation to the Covid19-related restrictions, the TIFF is committed to delivering another high-profile event and is ready to welcome audiences to the city's annual film celebration. Mr. Achtsioglou's presentation will provide all the necessary information about:
the highlights of the 61st TIFF
parallel events and opportunities
the alternative options planned for the exhibition of films
useful information for registering and attending the Festival
… and will be open to Q & A with participants.
The event is open to students and staff, as well as to the public (feel free to share!). No prior registration required. Join us online on Tuesday 27 October at 18.00 using the following link (Meeting ID: 914 7952 2506, Passcode: 192375). For more information, please contact Dr. Giorgos Dimitriadis at geodim@enl.auth.gr. We hope to see you all there!
May 23, 2019
Seminar on Translating Advertisements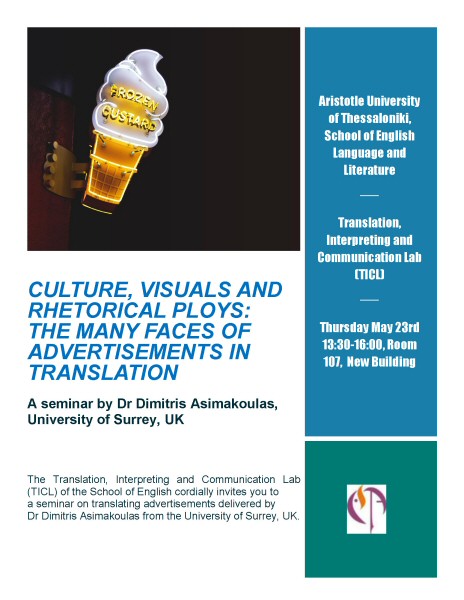 May 22, 2019
Seminar on Translating Comics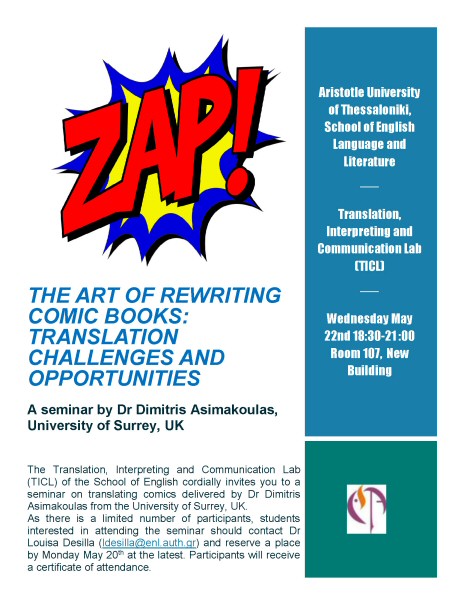 May 15, 2019
Talking the same simple language?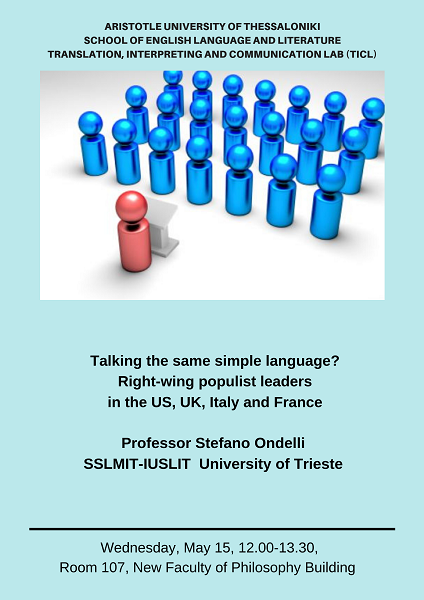 May 13, 2019
η οπτικοακουστική μετάφραση στα μανταλάκια της επικαιρότητας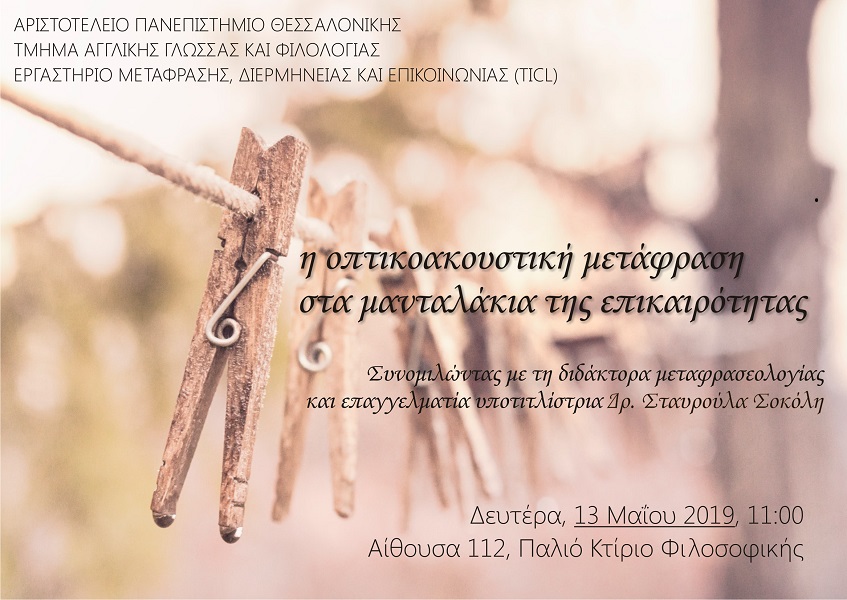 May 10, 2019
(Not) Everyone Can Be a Translator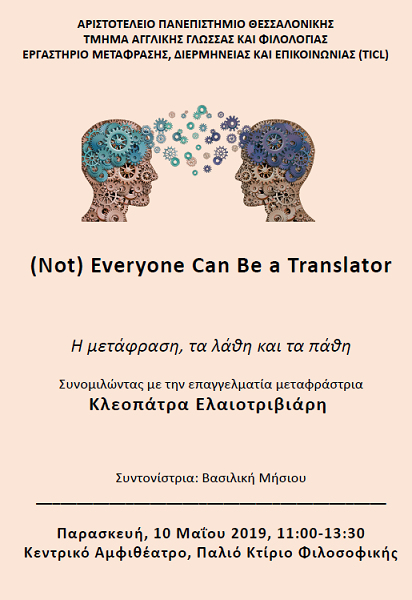 April 1, 2019
Επαγγελματικές Ανακρίσεις: FAQ την Πρωταπριλιά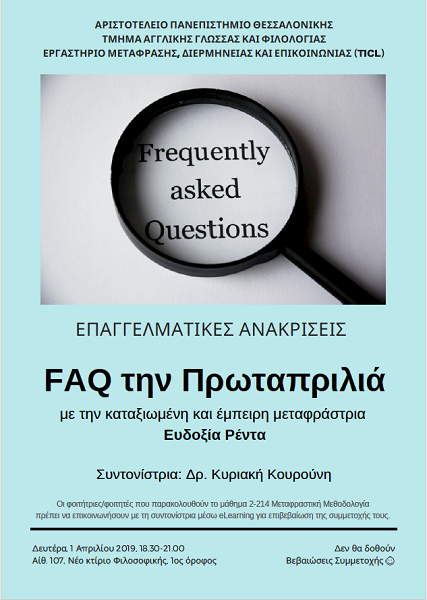 November 23, 2018
Narratives of Immigration: Community interpreting as a right/rite of passage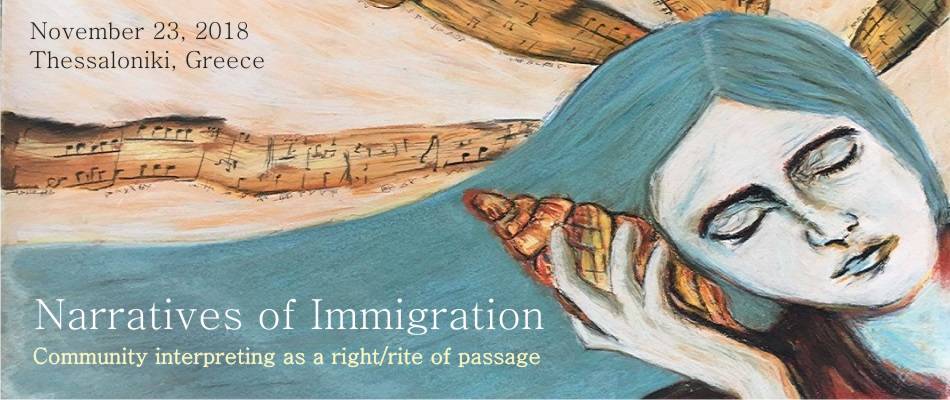 The Laboratory of Narrative Research and the Laboratory of Translation, Interpreting and Communication, with the support of AIIC Greece-Cyprus will organize a symposium in 2018 which will focus on the process of narrativising migrant displacement. In recent years an unprecedented wave of immigrants has been flooding the countries of southern Europe. The problem of communicating their narratives to different state bodies (law enforcement and asylum authorities, courts, schools) has been a major issue for both the immigrants and the host countries. Community interpreting is the only channel through which these people can pass their stories to the host community, at moments that can prove catalytic for their lives and the lives of their families. This symposium intends to explore this channel of communication from different perspectives. In different "rites of passages" – police interrogations, asylum hearings, court proceedings – interpreting gives these people a "right of passage" that will allow them to continue their lives.