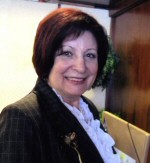 Angeliki Psaltou-Joycey
Angeliki Psaltou-Joycey
Professor Emerita of Applied Linguistics
Department of Theoretical and Applied Linguistics
School of English, Aristotle University of Thessaloniki
apsajoy@enl.auth.gr
Professor Emerita of Applied Linguistics
Department of Theoretical and Applied Linguistics
School of English, Aristotle University of Thessaloniki
apsajoy@enl.auth.gr
Invited talks
Invited talks
2018
Fostering Language Learning Strategy Instruction in the Classroom. Conference on Innovative approaches to Foreign Language Teaching, organised by the Department of Language, Literature and Culture of the Black Sea Countries, the Department of Greek Philology - Democritus University of Thrace, the Department of Primary Education - University of Western Macedonia, and the Faculties of Greek Philology and Translation and of Foreign Languages of the State University of Mariupol, Ukraine, Komotini, May 25-27.
2017
Situating language learning strategy use and instruction: The Greek context. Second International Conference on Situating Strategy Use, Department of Greek Philology, Democritus University of Thrace, Komotini, September 28-30.
2014
Language learning strategy instruction: The English language coursebooks in the Greek state schools. One-day event on Strategies in Language Learning and Teaching in honour of Professor Emerita Angeliki Psaltou-Joycey, organised by the Greek Applied Linguistics Association (4 October).
Promoting learner autonomy in the language learning classroom. Επιμορφωτική Ημερίδα της Επιστημονικής Ένωσης Καθηγητών Αγγλικής Δημόσιας Εκπαίδευσης Βόρειας Ελλάδας, Θεσσαλονίκη (26 Μαρτίου)
2013
Cross-linguistic influence on learning Greek as a third or additional language. 5th AILA-Europe Junior Researcher Meeting, 18-20 June, Trinity College, Dublin, Ireland. Theme: Multilingualism in Education.
2012
Στρατηγικές μάθησης της ξένης γλώσσας ως μέσον αυτονόμησης του μαθητή. Επιμορφωτική διημερίδα για τους σχολικούς συμβούλους ξένων γλωσσών με θέμα: Το ευρωπαϊκό portfolio γλωσσών. Υπουργείο Παιδείας & Θρησκευμάτων, Πολιτισμού & Αθλητισμού (22-23 Οκτωβρίου).
2007
Developing modular plurilingual competence: Focusing on receptive language skills. 2nd Meeting of NEAL: Network of European Applied Linguists, Erfurt, Germany.
2005
Preferred learning styles and strategies of EFL university students. 4th International ELT Research Conference on "Reflecting on Insights from ELT Research, YADEM Canakkale Onsekiz Mart University, Turkey.
2004
Learning styles and strategies: How much do they affect the teaching and learning of a second/foreign language? Plenary talk at the 6th Annual Educational Symposium on "Learning and teaching issues in schooling: From childhood to adolescence", Teachers' of English Union of Thrace and Eastern Macedonia, Komotini, Greece.
Πολυγλωσσία και Πολυπολιτισμικότητα: Η Διδασκαλία Ξένων Γλωσσών. [Multilingualism and multiculturalism: The teaching of foreign languages]. 1st Educational Conference on "The school facing linguistic and cultural differences", Regional Directorship of Education in Western Macedonia, Kozani, Greece.
2002
Variable effects of different types of corrective feedback on L2 learning. Colloquium on "Challenges in Teacher Education", Department of Theoretical and Applied Linguistics, School of English, Aristotle University of Thessaloniki, Greece
2001
Learning Strategies. Plenary talk at the Symposium for primary and secondary school teachers of English in Thessaly. Larisa, Greece.
New challenges and perspectives for the teaching/learning of foreign languages. European Symposium on "Policies of Linguistic Pluralism and the Teaching of Languages in Europe", Faculty of Philosophy, National and Kapodistrian University of Athens, Greece.