Melina Charta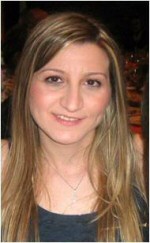 Melina Charta is a Postgraduate student at the department of English Language and Literature majoring in Theoretical and Applied Linguistics at the Aristotle University of Thessaloniki. She also holds a Bachelor's degree in English Language and Literature from the same University. During her studies as a MA student she has done an acoustic analysis entitled "Differences in segmental, VOT duration and the formant frequencies of all Greek vowels in 'pVCV (C=stop) words produced in normal vs. loud speech". She has also done a phonological analysis entitled "Applying Optimality Theory to Phonological Processes: examining its pros and cons through examples from various languages".
She is currently writing her dissertation in Phonetics entitled as "The Acquisition of Greek liquids /l/, /r/ by pre-school and primary school children".
She is also part of the SpeakGreek project. She works as a researcher collecting, annotating and analysing data, reporting results and analysing speech databases.

More information
© School of English, Aristotle University of Thessaloniki