Elizabeth Sakelaridou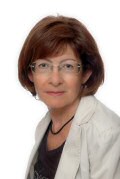 Elizabeth Sakellaridou is Professor of drama and theatre studies in the Department of English of Aristotle University, Thessaloniki, Greece. She also lectures at the Department of Theatre Studies. Her teaching and research interests include English and comparative drama, gender and cultural studies and performance theory (especially phenomenology) - fields in which she has extensively published both independently and in international journals and collective volumes. Her more recent concerns have turned around the question of tragedy and melancholia and also the issues of urban space and performance and (inter)active audiences. Her books include Pinter's Female Portraits (Macmillan 1988), Contemporary Women's Theatre (1st edition Ellinika Grammata, 2006 and 2nd edition Epikentro, 2012) and Theatre – Aesthetics –Politics: Traversing the British Stage at the Turn of the Millennium (Papazisi, 2012).
Her current research focuses on psychogeography and cultural identity in contemporary British drama.
She has been research fellow and invited lecturer or speaker at various British and American Universities.
She is an active member of international drama societies and board member of Greek and international academic journals.
For a complete Curriculum Vitae click here.
Books
esakel@enl.auth.gr
Tel.: + 30 2310 99 7424
Fax: + 30 2310 99 7432