Tina Krontiris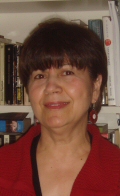 Tina Krontiris is Professor of Renaissance literature and drama at Aristotle University of Thessaloniki in northern Greece. Born in Evia (Euboia), Greece, she moved to the United States at the age of 16. After completing her secondary education in Boston, she went on to study English literature at the University of Illinois (B.A.) and George Washington University (M.A.). She worked as part-time lecturer in American universities for several years and in 1984 she won a Greek State Scholarship for doctoral research in England. Upon completion of her Ph.D. at the University of Sussex, she returned to Greece permanently and in 1989 took up a tenure-track position at the English Department of Aristotle University, where she has been teaching ever since. She offers courses on the literature and drama of the English Renaissance. She is co-director of the Department's MA Programme in "Anglophone Literatures and Cultures".
RESEARCH INTERESTS
Shakespeare's reception in the 20th century; Shakespeare in wartime; Renaissance drama; Renaissance women writers; gender and adolescence in early modern society and drama; theories of childhood; teenage love.
ACADEMIC DEGREES
B.A. with High Distinction in English, University of Illinois, Chicago, 1974.
M.A. in English Literature, George Washington University, 1978.
Ph.D., University of Sussex, 1987. (Dissertation title: "Women Writers and Dominant Ideology in the English Renaissance." Supervisor: Jonathan Dollimore.)
CONTACT DETAILS
Prof. Tina Krontiris
Department of English Literature
Faculty of Philosophy
Aristotle University
54124 Thessaloniki, Greece
Tel.: +30 2310 997133 (office)
E-mail: krontir@enl.auth.gr
PUBLICATIONS
BOOKS
Monographs

Oppositional Voices: Women as Writers and Translators in the English Renaissance.
London & New York: Routledge, 1992.
Paperback edition, 1997.




Women and/in the Renaissance.
Thessaloniki: University Studio Press, 2000.

Αντώνιος και Κλεοπάτρα: κριτικές προσεγγίσεις [Antony and Cleopatra: Critical Approaches].
Thessaloniki: University Studio Press, 2000. Written in Greek.




Μακμπέθ: κριτικές προσεγγίσεις [Macbeth: Critical Approaches].
Thessaloniki: University Studio Press, 2001. Written in Greek.




Ο Σαίξπηρ, η Αναγέννηση κι εμείς [Shakespeare, the Renaissance and Ourselves].
Thessaloniki: University Studio Press, 2002. Written in Greek.]




Ο Σαιξπηρ σε καιρό πολέμου, 1940-1950 [Shakespeare in Wartime].
Athens: Alexandria Publishers, 2007. Written in Greek & reviewed in English in Shakespeare and the Idea of an Audience, vol. 15 of GRAMMA.

Edited volumes

Γυναίκα, Λογοτεχνία, Θεωρία: Εργασίες Συμποσίου. [Women, Literature, Theory: Symposium Proceedings].
Thessaloniki: Aristotle University, School of English, 1994. Translated into Greek.

Η Λογοτεχνία και οι Προϋποθέσεις της: τιμητικό αφιέρωμα. [Literature and Its Presuppositions: in Honour of Jina Politi].
Co-edited with K. Kitsi. Thessaloniki: University Studio Press, 1999. Contains Greek and English essays.

Η προσαρμοστικότητα του Σαίξπηρ [Shakespeare's Adaptability].
Athens: Ergo, 2005. Contains essays by Peter Holland, Michael Dobson, Kiernan Ryan, Tina Krontiris, and Krystyna Kujawinska. Translated into Greek.

Shakespeare and the Idea of an Audience,
a special issue of GRAMMA, vol. 15. Co-edited with Jyotsna Singh. Thessaloniki: Aristotle University Publications, 2007.
SELECTED ARTICLES
"The Merchant of Venice at the National Theatre of Greece (1945) and the Silencing of the Holocaust", Shakespeare Survey 67, ed. Peter Holland. Cambridge: Cambridge University Press, 2014.
"Shakespeare in Extremis: The Staging of the Classics by Greek Political Exiles (1951-1953)", in Renaissance Shakespeare, Shakespeare Renaissances, ed. M. Prochazka, M. Dobson et al, Univ. of Delaware Press, 2013.
"Shakespeare and Censorship during the Second World War: Othello in Occupied Greece", in Shakespeare and the Second World War: Memory, Culture, Identity, ed. Irena Makaryk, University of Toronto Press, 2012.
"Οι πρώτες μεταπολεμικές προσπάθειες ανανέωσης της σκηνής και η πρόταση της Αυλαίας", Πρακτικά Γ' Πανελληνίου Θεατρολογικού Συνεδρίου, επιμ. Αντώνης Γλυτζουρής, Εκδόσεις Πανεπιστημίου Κρήτης, 2010. [The first postwar attempts at stage renewal in the Greek theatre: the Avlaia Theatre Company, 1945.]
"Greece" [Shakespeare in Greece, Greece in Shakespeare]. The Shakespeare Encyclopedia, ed. Patricia Parker. Greenwood Press, forthcoming.
"Henry V and the Anglo-Greek Alliance in World War II", in European Shakespeares, ed. Carla Calvo & Ton Hoenselaars, a special section of The Shakespearean International Yearbook, Ashgate Publishing, 2008.
"Shakespearean Histories and Greek History: Henry V and Richard II at the Greek National Theatre (1941, 1947)", Shakespeare and Europe: History-Performance-Memory, a special issue of Multicultural Shakespeare, vol. 4 (2007): 37-50.
"Shakespeare and Conservatism during the Greek Civil War (1946-1950)", Journal of Modern Greek Studies [Johns Hopkins UP] 25.2 (Oct. 2007): 195-212.
"Translation as Appropriation: Vassilis Rotas, Shakespeare and Modern Greek", Shakespeare Survey, vol. 58 (2005): 208-219.
"Η μετάφραση ως μορφή οικειοποίησης Ο Σαίξπηρ στη δημοτική του Βασίλη Ρώτα." In Η προσαρμοστικότητα του Σαίξπηρ, ed. T. Krontiris and K. Kitsi. Athens: Ergo, 2005. 143-167.
"The Omniscient 'Auctor': Ideology and Point of View in Measure for Measure," English Studies [Swets & Zeitlinger], 80.4 (August 1999).
"Αριστοτέλης, Σαίξπηρ και διακειμενικότητα: η περίπτωση του τραγικού ήρωα" [Aristotle, Shakespeare and Intertextuality: the case of the tragic hero]. In Η Λογοτεχνία και οι Προϋποθέσεις της, ed. Tina Krontiris and Katerina Kitsi. Thessaloniki: University Studio Press, 1999. Written in Greek.
"Noblewomen Dramatizing the Husband-Wife Conflict." In Readings in Renaissance Women's Drama, ed. Susan Cerasano and Marion Wynne-Davies. London: Routledge, 1998.
"Tragic Character and Ideology in King Lear," Gramma 5 (1997):109-123.
"Tragic Hero and Tragic Victim: The Othello-Desdemona Relationship in Shakespeare's Othello," in Logomachia: Forms of Opposition in English Language/ Literature, ed. E. Douka-Kambitoglou. Thessaloniki: Hellenic Association for the Study of English, 1994.
"Reading with the Author's Sex: A Comparison of Shakespeare's Othello and Massinger's The Duke of Milan," Gramma 1(1992): 123-36.
"Style and Gender in Elizabeth Cary's Edward II," in The Renaissance Englishwoman in Print: Counterbalancing the Canon, ed. A. Haselkorn and B. Travitsky. Amherst: University of Massachusetts Press, 1990.
"Breaking Barriers of Genre and Gender: Margaret Tyler's Translation of the Mirrour of Knighthood", English Literary Renaissance 18.1 (Winter 1988): 19-39.
ELECTRONIC BIBLIOGRAPHIES
"Renaissance and Early Seventeenth Century Women's Writing", in The Annotated Bibliography for English Studies, on line & CD-ROM, Volume 304. Lisse: Swets & Zeitlinger, 1996-1998.
PLENARY LECTURES
The Staging of Shakespearean Conflict and War Trauma: The Merchant of Venice on the Greek Stage in 1945, The 8th International ESRA Conference, 12-22 November 2009, Pisa, Italy.
INTERNATIONAL SEMINARS & TALKS
"Shakespeare, War and the Conditions of Performance", a seminar co-organized with Irena Makaryk, Ninth World Shakespeare Congress, Prague, 17-22 July, 2011.
A series of papers delivered at the University of Lodz, Department of British & Commonwealth Studies, 10-16 November 2013. Topics: "Eros, Poetic Subjectivity, and the Negotiation of Petrarchan Conventions in Mary Wroth's Pamphilia to Amphilanthus; "Aristotle and Shakespeare: the Question of Influence Re-visited with a Postmodern Concept of Intertextuality; "Shakespeare in Wartime Greece: the First Postwar Producton of The Mercahnt of Venice (1945).
SUPERVISION OF ADVANCED RESEARCH
A. Doctoral research brought to completion
Effie Botonaki, Seventeenth-Century English Women's Autobiographical Writings. Completed in 1998.
Xenia Georgopoulou, The Fashioning of the Female in Shakespeare. Completed in 2005.
Dora Mavropoulou, Oi parastaseis tou Saikspir stin Ellada (1900-1950) [Shakespeare performances in Greece, 1900-1950]. Co-supervised. Completed in 2007.
Öz Öktem, The Representation of Muslim Women in English Renaissance Drama. Completed in 2014.
B. Doctoral research currently in progress
Dimitra Dalpanagioti, The Representation of William Shakespeare's Heroines in Greek Translations of Shakespeare's Plays
Dimitra Koutla, Colonialism in the Literary, Historical and Philosophical Discourses of Early Modern England
SHAKESPEARE FOR SECONDARY SCHOOL STUDENTS: INTERNET SOURCES FOR HIS LIFE AND TIME
www.shakespeare-online.com this site includes the text of the plays as well questions about them, and analyses of theme, plot and characters for high school students. It is not an "academic" site.
www.shakespeareswords.com this site includes all the plays and poems written by Shakespeare. It also includes various activities you can do with Shakespeare. But it does not include critical analyses of plays. The glossary offered on the margin of the text shows that this site too is aimed at a non-academic audience.
www.folger.edu this site has something for everyone and certainly a lot of things for teachers since it was created to facilitate the introduction of Shakespeare into elementary and secondary schools. The section entitled "Shakespeare for kids" is geared to elementary school pupils but several of its activities may be adapted for older youngsters.
www.bbc.co.uk this site contains part of the well known series "The Tudors" and in the Tudor section it includes an account of Shakespeare. It's easy to understand, interesting and reliable.
The following four-part series on Shakespeare, his work, and his time is a reliable source of information based on Michael's Wood's book, In Search of Shakespeare. It is biography, theatre, and history combined. All students love videos and this is a good one.
http://www.youtube.com/watch?v=7KDiaA1AlPQ (Part 1)
http://www.youtube.com/watch?v=8ki5d2w5eGI (Part 2)
http://www.youtube.com/watch?v=TF0M8470SUs (Part 3)